FEEDBACK
Comments from CEOs, Executives, and seminar participants.
"Eric's plan and modules are the best that I have seen because it is a product of experience." - Ambassador Jose Eduardo B. Antonio, Chairman, and CEO, Century Properties Group, Inc.
"Eric is my mentor. I continue to learn from him. It was a great experience." - Mr. Ramon B. Antonio, Executive Vice President for Sales, Century Properties Group, Inc.
"It's amazing how you developed our staff and key officers. You train with your heart and that is one of the reasons why the training had a personal impact on them." - Virginia S. Dio, President, Pacific-Ace, Hong Kong
"The seminar-workshop is really amusing and didactic, I reckon the staff needed that and looking forward to have more. It is very beneficial to our staff that they have to learn more." - Mr. Ramon Delos Santos Operations Manager, Pacific Ace
"There is no doubt that he is a professional trainer and created a tremendous impact not only on professional life but also the personal life of our sales leaders." - Atty. Jose G. Fineza, President, Excelta Trading Corporation
"We need more of you in a fast growing industry. Your professionalism, integrity and ethics will sustain the industry." - Mr. Jun Garing, President, Jun Garing School of Professional Selling.
"I'll be happy to hear and work hand in hand with an expert like you in the industry. You have a very good foresight ensuring effectivity in marketing and business development." - Ms. Grace Tolentino, CEO, Beach Boracay Inc.
"The master closer, Eric Manalo, mentoring us on how to build resilience in sales and in finding the right customers, and close more sales." - Ms. Kassy Pajarillo, Founder, The After Six Club
"Congratulations Sir Eric for another successful learning event today. We are glad to have you as one of our partner speaker at ARIVA Speaker Bureau." - JM Matienzo, Chairman, Ariva Academy
Thank you Eric Manalo for a very successful and refreshing training to our RCL Team! - Fausto Liriano, Chairman, RCL Realty and Consulting Services.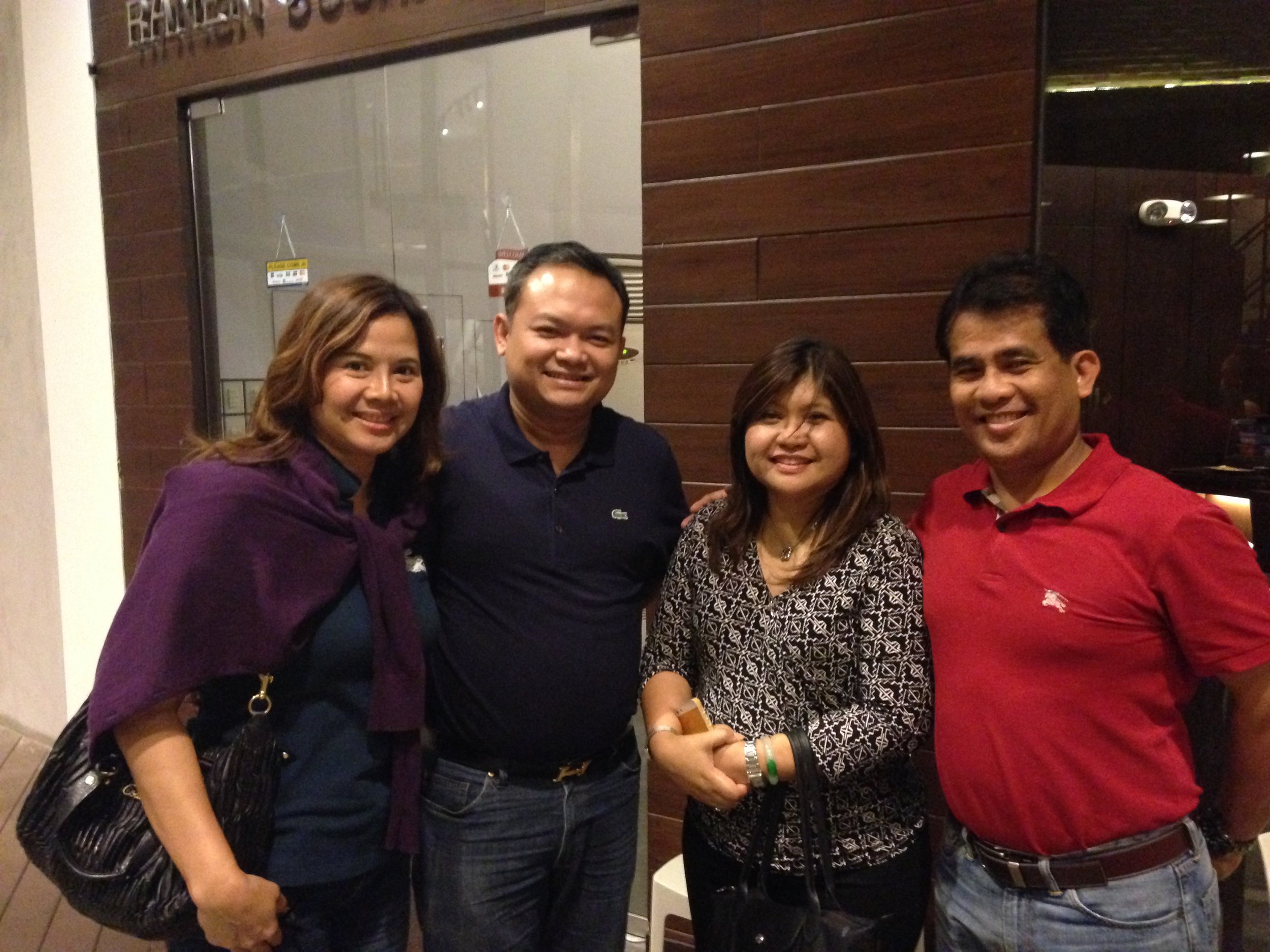 "Thank you for providing us the much needed training. I believe that as responsible employees and officers we know what are right and wrong. Common sense is the best teacher, but sometimes, we forget to trust our common sense. So here is where training comes in. Keep up the good work!" - Atty. Winston Ginez, Chairman, LTFRB 2013-2016
"You have the passion in sharing knowledge to create an impact on people's lives." - Mr. Hector Villa, Six Sigma Consultant
"Just want to share that your presentation is fantastic - its engaging and case studies makes it more relevant…Awesome what you do." - Carl Dy, Best Selling Author, President, Spectrum Investments.
"I learned a lot and so do the delegates. You have the wisdom and power of a great speaker. Thank you Eric." - Mr. Orly Ballesteros, President, Ex-Link Events
"One of the most reflective trainings I've attended! There were a lot of AHA moments and insights. Thank you, Sir Eric Manalo." - Ms. Clauds Acyatan, Victory Christian International School
"Highly-informative, inspiring and lively discussion by multi-awarded speaker, Mr. Eric Manalo. His ingenious approach in imparting his knowledge and sharing his real life experiences made the learning event both educational and entertaining." – Mr. Anthony Galono
"The topics are very relatable to us, we like the smart interaction between the speaker and audience. Active and full of energy, he was able to sustain audience attention the whole day of the training. The activities were relevant to our daily jobs and we like sharing of best practices. Good job!" - SANOFI
"After the seminar, the staff became more aware that their responsibility does not end with themselves but it extends to their officemates and the company as well. Thanks and congrats that was a tough, although enjoyable job!" - Ms. Charmaine Pahate, Creative writer
"First of all we are very pleased of your outstanding training you've done to us. It's always in our mind and applied in our daily work towards our customers here in LANTAU." - Ms. Connie, Pacific-Ace, Lantau branch.
"I learned Teamwork and love for my job in public service. I will work hard to improve myself to serve others better." - Maila Pelicano, Government Employee
"I learned to analyze to make the right decisions everyday as a public servant." - Joselito Estrella, Government Employee
"I learned to give Total Quality Service to the people. I need to improve myself and do more." - Noel Valdez, Government Employee
"Even a staff like me can make a difference with my co-workers to achieve success." - Maritess Taghoy, Government Employee
"Maraming Salamat po sir Eric kasi iyong itinuro ninyo ginawa ko po sa pamilya ko at sa Boss namin, iba pala ang pakiramdam, effective po. Sana po sa susunod na seminar kayo uli." – Edith, Government Service
"Up to now I still feel ecstatic and proud to be one of your audience." Maria Theresa Cruz, Grand Monaco Development Corp.
"Thank you sir Eric for imparting your knowledge to our group."

"Excellent, very good speaker and best trainer that I've met."
"Knowledge of the subject matter and ability to relate in every aspect of the program."
"He influences and motivate us to be a good leader in facing our challenges."
"I had self-realization to speak out, share my ideas, and gained confidence."
"He has charisma to his attendees and topics are based on real life experience."
"Congratulations! Keep up the great work in sharing your knowledge."
"Well presented and focuses on the objectives of the seminar."
"We liked the interaction of all the participants in handling issues and problems."
"The topic is very relevant as we try to apply it in our work and personal life."
"The seminar changed my perception and beliefs. Its life-changing."
"What I've learned on this seminar can be applied to my team and to myself."
"I learned to listen patiently before you react. Consider other people's views."
"Excellent trainor with a great delivery of the topic. Many insights."
"Because of this amazing experience, I want to recommend this program so they can also benefit from this kind of training."
"Great experience, best facilitator as well. Excellent job!
We are blessed to have you sharing your secrets with us. I am learning so much from you.
" - Ms. Dina H. Loomis, President, South East Asia Speakers and Trainers, Bureau, Inc.
"Sir Eric, thank you for sharing your inspiring life story. Because of you, my mind is opened that we must share ourselves to the world." - Ms. Xandie Pajarin
"The 1st PACT Summit was a HUGE success indeed, Eric! Your presence, support, and shared insights, together with those of the main speakers & other panelists, surely made it so!" - Conrad "Mr. Fave" Favorito
We hope someday when we meet again, will be able to give our gratitude to all the advise you shared during the seminar. You are such an inspiration to us sir Eric Manalo. - Pamantasan ng Lungsod ng Valenzuela, Junior Marketing Association 2019.
So blessed to have you as our guest speaker. We are jolted with motivation on both marketing and personal related areas. The marketing community was really amazed on your presentation. We have learned a lot and this will serve as our guide when we enter the business world.
2019 Guest speaker on "Corporate Battlefield: Gearing Up for the Challenges of Competitive World" for Polytechnic University of the Philippines Quezon City.
"I would like to thank you again for the seminar, it was so inspiring for all of us. One of the things that was really inspiring was the fact that in your heart you know you are in the right position. Like it is really meant for you to be there. Not everybody is lucky enough to be in that position but listening to your story; you, not giving up motivates us all. So thank you. - RCL Realty Team
"Thank you sir Eric for inspiring us and unleashing our potential. May you help more people by inspiring them and understand that whatever our purpose in life depends on how we think and set our mind." - K-Lift and Brighton Corporation
I admire you for your humility, your diligence, and your unwavering purpose Sir Eric. I am proud to be able to learn from you. Thank you for all the wisdom you have shared to me and my family! - Ms. Colyn Lorenzo